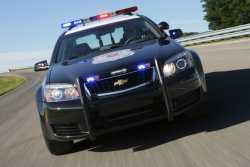 Diagnostic Trouble Code: B0013
Diagnostic Trouble Code Name: Driver Frontal Deployment Loop Stage 2
Vehicle Make: Chevrolet
Vehicle Model: Caprice (VE)
Diagnostic Code Entered By: ZerOne
Diagnostic Code Entered On: Wed Oct 06, 2010 11:00 pm
Please Note: The DTC Information provided has been randomly generated.
To view the correct Diagnostic Code Information, Please Login, or Register.
Diagnostic Trouble Code Description:
Post Catalyst Fuel Trim System High Limit Bank 1

Possible Sensor Faults
ECM

Possible Related Diagnostic Trouble Codes
DTC P2097 or P2099

Circuit / System Description
Fuel trim bias is used to keep the post catalyst air/fuel ratio within a predetermined range. This allows optimal catalyst efficiency under light load conditions at a steady cruise. The engine control module (ECM) constantly monitors how lean or rich the fuel trim bias is commanded, to determine if the fuel trim bias is greater than a calibrated amount.