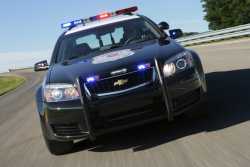 Diagnostic Trouble Code: B0079
Diagnostic Trouble Code Name: Driver Seat Position Sensor Circuit
Vehicle Make: Chevrolet
Vehicle Model: Caprice (VE)
Diagnostic Code Entered By: ZerOne
Diagnostic Code Entered On: Wed Oct 06, 2010 11:00 pm
Please Note: The DTC Information provided has been randomly generated.
To view the correct Diagnostic Code Information, Please Login, or Register.
Diagnostic Trouble Code Description:
Throttle Actuator Position Performance

Possible Sensor Faults
ECM

Possible Related Diagnostic Trouble Codes
DTC P0638, P2100, P2101, or P2119 for the 2.8L, 3.0L, 3.2L, or 3.6L engine (without LF1)

Circuit / System Description
The Engine Control Module (ECM) controls the throttle valve by applying a varying voltage to the control circuits of the throttle actuator control (TAC) motor. The ECM monitors the duty cycle that is required to actuate the throttle valve. The ECM monitors the throttle position sensors?1 and 2 to determine the actual throttle valve position.