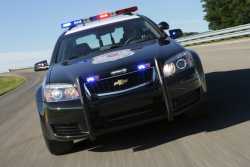 Diagnostic Trouble Code: B013B
Diagnostic Trouble Code Name: Coil Compressor Stroke Control Circuit
Vehicle Make: Chevrolet
Vehicle Model: Caprice (VE)
Diagnostic Code Entered By: ZerOne
Diagnostic Code Entered On: Wed Oct 06, 2010 11:00 pm
Please Note: The DTC Information provided has been randomly generated.
To view the correct Diagnostic Code Information, Please Login, or Register.
Diagnostic Trouble Code Description:
Vehicle Speed Sensor Circuit Intermittent

Possible Sensor Faults
ECM

Possible Related Diagnostic Trouble Codes
DTC P0500, P0502, or P0503

Circuit / System Description
The transmission control module (TCM) provides the engine control module (ECM) vehicle speed information through the high-speed communications on the controller area network (CAN). Vehicle speed is produced by the AC current generated through the transmission output shaft speed (OSS) sensor as the output shaft rotates. The ECM continuously monitors the vehicle speed signal supplied by the TCM.