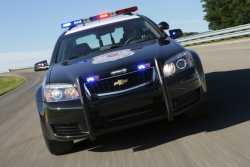 Diagnostic Trouble Code: B0158
Diagnostic Trouble Code Name: Outside Air Temperature Sensor Circuit
Vehicle Make: Chevrolet
Vehicle Model: Caprice (VE)
Diagnostic Code Entered By: ZerOne
Diagnostic Code Entered On: Wed Oct 06, 2010 11:00 pm
Please Note: The DTC Information provided has been randomly generated.
To view the correct Diagnostic Code Information, Please Login, or Register.
Diagnostic Trouble Code Description:
Stability System Active Too Long

Possible Sensor Faults
EBCM

Possible Related Diagnostic Trouble Codes
DTC C0280

Circuit / System Description
The brake pressure modulator valve assembly contains an isolation solenoid valve and a dump solenoid valve for each wheel and a traction control/stability control prime solenoid valve and isolation solenoid valve for each brake circuit. The solenoid valves are not engaged during normal system operation. When the ABS, traction control or stability control operation is required the electronic brake control module (EBCM) turns the required solenoid valves ON.