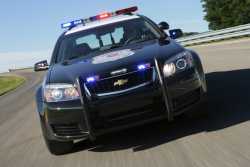 Diagnostic Trouble Code: B0238
Diagnostic Trouble Code Name: Defogger Door Motor Circuit
Vehicle Make: Chevrolet
Vehicle Model: Caprice (VE)
Diagnostic Code Entered By: ZerOne
Diagnostic Code Entered On: Wed Oct 06, 2010 11:00 pm
Please Note: The DTC Information provided has been randomly generated.
To view the correct Diagnostic Code Information, Please Login, or Register.
Diagnostic Trouble Code Description:
Passenger Frontal Deployment Loop Stage 1

Possible Sensor Faults
SDM - Sensing and Diagnostics Module (Airbag Black Box)

Possible Related Diagnostic Trouble Codes
DTC B0014-B0045

Circuit / System Description
During a side or frontal crash of sufficient force the inflatable restraint sensing and diagnostic module (SDM) will allow current to flow through the deployment loop in order to deploy an inflatable restraint module. There are 2 shorting bars used within the module connector which will short together control circuits, when the connector is disconnected. This will help to prevent unwanted deployment of the air bag or pretensioner during servicing.