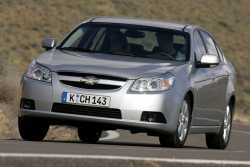 Diagnostic Trouble Code: 024
Diagnostic Trouble Code Name: Keyless Entry Transmitter Synchronization Failure
Vehicle Make: Chevrolet
Vehicle Model: Epica (V250)
Diagnostic Code Entered By: ZerOne
Diagnostic Code Entered On: Wed Oct 06, 2010 11:00 pm
Please Note: The DTC Information provided has been randomly generated.
To view the correct Diagnostic Code Information, Please Login, or Register.
Diagnostic Trouble Code Description:
Cylinder 6 Injector Control Circuit Low Voltage

Possible Sensor Faults
ECM

Possible Related Diagnostic Trouble Codes
DTC P0201, P0202, P0203, P0204, P0205, P0206, P0261, P0262, P0264, P0265, P0267, P0268, P0270, P0271, P0273, P0274, P0276, or P0277 for the 2.8L, 3.0L, 3.2L, or 3.6L engine (with LF1, LE0 and LY7)

Circuit / System Description
The engine control module (ECM) enables the appropriate fuel injector on the intake stroke for each cylinder. Ignition voltage is supplied directly to the fuel injectors. The ECM controls each fuel injector by grounding the control circuit with a solid state device called a driver. The ECM monitors the status of each driver. Each driver has a feedback voltage circuit which the ECM monitors. The injector control circuits are pulled-up to voltage within the ECM. The ECM can determine if a control circuit is open, shorted to ground or shorted to a voltage by monitoring the feedback voltage.