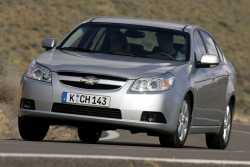 Diagnostic Trouble Code: 028
Diagnostic Trouble Code Name: Driver Window Express Down Switch Circuit
Vehicle Make: Chevrolet
Vehicle Model: Epica (V250)
Diagnostic Code Entered By: ZerOne
Diagnostic Code Entered On: Wed Oct 06, 2010 11:00 pm
Please Note: The DTC Information provided has been randomly generated.
To view the correct Diagnostic Code Information, Please Login, or Register.
Diagnostic Trouble Code Description:
Cylinder 1 Deactivation Solenoid Control Circuit

Possible Sensor Faults
ECM

Possible Related Diagnostic Trouble Codes
DTC P3401, P3425, P3441, or P3449

Circuit / System Description
The cylinder deactivation system is used to deactivate 4?cylinders of the engine under light load driving conditions. The engine control module (ECM) commands the cylinder deactivation solenoids ON to deactivate engine cylinders 1, 7, 6, and 4, switching to 4?cylinders or V4 mode. The cylinder deactivation solenoids controls the oil flow to the appropriate valve lifters. The engine operates on 8 cylinders or V8 mode, during engine starting, engine idling, and medium to heavy throttle conditions.

Ignition voltage is supplied directly to the 4?cylinder deactivation solenoids. The engine control module (ECM) controls the 4?cylinder deactivation solenoids by grounding the control circuit with a solid state device called a driver.