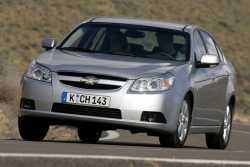 Diagnostic Trouble Code: 035
Diagnostic Trouble Code Name: Link Immobilizer Antenna Error
Vehicle Make: Chevrolet
Vehicle Model: Epica (V250)
Diagnostic Code Entered By: ZerOne
Diagnostic Code Entered On: Wed Oct 06, 2010 11:00 pm
Please Note: The DTC Information provided has been randomly generated.
To view the correct Diagnostic Code Information, Please Login, or Register.
Diagnostic Trouble Code Description:
O2 Sensor Ratio invalid Bank 2 Sensor 1

Possible Sensor Faults
ECM

Possible Related Diagnostic Trouble Codes
DTCP1134 or P1154

Circuit / System Description
Heated oxygen sensors (HO2S) are used for fuel control and post catalyst monitoring. Each HO2S compares the oxygen content of the surrounding air with the oxygen content in the exhaust stream. The HO2S must reach operating temperature to provide an accurate voltage signal. Heating elements inside the HO2S minimize the time required for the sensors to reach operating temperature. The engine control module (ECM) supplies the HO2S with a reference, or bias, voltage of about 450?mV. When the engine is first started the ECM operates in Open Loop, ignoring the HO2S voltage signal. Once the HO2S reaches operating temperature and Closed Loop is achieved, the HO2S generates a voltage within a range of 0-1,000?mV that fluctuates above and below bias voltage. High HO2S voltage indicates a rich exhaust stream. Low HO2S voltage indicates a lean exhaust stream. This diagnostic will only run once per ignition cycle. The ECM monitors the rich-to-lean and lean-to-rich transition time. A transition is defined as, the HO2S voltage changes from above 625?mV to below 250?mV or from below 250?mV to above 625?mV. If the ECM detects that the difference between the rich-to-lean average transition time and lean-to-rich average transition time is more than a specified value, DTC?P1134 sets for HO2S bank?1 sensor?1, or DTC?P1154 sets for HO2S bank?2 sensor?1.