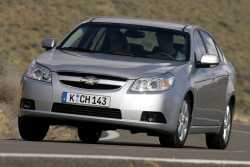 Diagnostic Trouble Code: 7
Diagnostic Trouble Code Name: Automatic Temperature Controller
Vehicle Make: Chevrolet
Vehicle Model: Epica (V250)
Diagnostic Code Entered By: ZerOne
Diagnostic Code Entered On: Wed Oct 06, 2010 11:00 pm
Please Note: The DTC Information provided has been randomly generated.
To view the correct Diagnostic Code Information, Please Login, or Register.
Diagnostic Trouble Code Description:
Cylinder 3 Injector High Control Circuit

Possible Sensor Faults
ECM

Possible Related Diagnostic Trouble Codes
DTC P0201-P0206, P0261, P0262, P0264, P0265, P0267, P0268, P0270, P0271, P0273, P0274, P0276, P0277, P2146, P2149, P2152, P2155, P216A, or P216D

Circuit / System Description
The engine control module (ECM) supplies voltage to each fuel injector on the injector high voltage supply circuits. The ECM energizes each fuel injector by grounding the high voltage control circuit of the fuel injector. The ECM monitors the status of the injector high voltage supply circuits and the fuel injector high voltage control circuits. When a fuel injector circuit condition is detected by the ECM, the affected fuel injector(s) is disabled.