Here is our first glimpse of the VF Interior.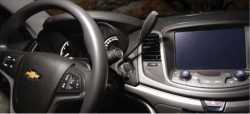 This is the interior of a U.S. specified PPV Caprice test mule, that was taken in the USA.
New to the VF is column shift capability, which frees up centre console space for police equipment, doughnuts, and gigantic slurpies.
(It is unknown if the column shift will be an option for Australian spec Commodores,
however the mere existence option must be making taxi fleet owners and taxi drivers moist in their pants).
The above image was taken from John Mellors GoAuto News, which can be downloaded from this link,
http://www.goautomedia.com/